This workshop is postponed. Sorry for the inconvenience.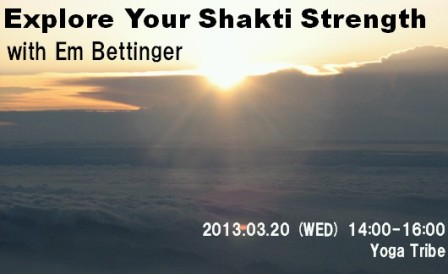 We are all stronger than we believe we are. Sometimes we need to find a challenge to awaken that strength within.
This innovative practice will introduce ways to find lightness within your strength to lift into and explore asanas in a way you won't have approached them before.
This workshop mixes in blankets, blocks, partner work, inversions, arm balances and fun.
Japanese interpretation by Kuniko Nakada.

■Detail
Date and Time:Wed, Mar 20th, 2013 14:00-16:00
Venue:「Yoga Tribe」1-16-5−312 Kitasakae Urayasu, Chiba (1 min from Tokyo Metro Tozai-Line Urayasu station)
Fare: JPY4,000 (Payment should be arranged in advance)
Max NO of People: 14(Advance booking only)
This workshop is postponed. Sorry for the inconvenience.
■Em Bettinger Profile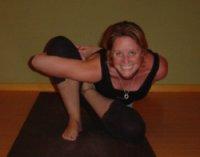 Em Bettinger trained as a contemporary dancer in London where she was introduced to yoga many moons ago.She is honored to teach at Sun and Moon Yoga in Tokyo and continues to study with her teacher Paul Dallaghan at samahith Yoga Thailand on Koh Samui and is 500 hour Yoga Alliance certified.
Her own practice draws on Ashtanga, Vinyasa Flow and dance. Em would like students to explore, release, experience inner and outer transformation–and have fun.
For information about Em please view her website; http://www.em-yoga.com