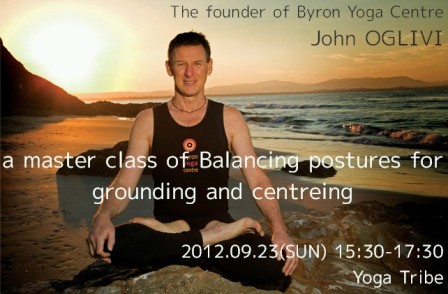 In the busy-ness of our daily lives it is easy to become caught up in stress and anxieties, and lose our sense of balance. The practice of yoga can assist us to find the balance between the inner and the outer world, between our daily social interactions with people and our own needs.
In this workshop, we will practice various balancing postures, including Vrksasana (the tree) and some inverted postures, to enable us to take a look inside ourselves and find out what our body and mind are requiring at the moment. We will use props as necessary to practice some of the more advanced postures.
In the class, there are always options to choose from, you could take the opportunity to challenge yourself and find yourself doing something more than you think you could do – and this will bring joy to both your body and mind.
■Detail
Date and Time:Sun, 23th Sep 2012 15:30-17:30
Venue:「Yoga Tribe」1-16-5−312 Kitasakae Urayasu, Chiba (1 min from Tokyo Metro Tozai-Line Urayasu station)
Fare: JPY4,000 (Payment should be arranged in advance)
Max NO of People: 16(Advance booking only)
How to Apply:Please send e-mail to book@yogatribe.jp - including your name・TEL・e-mail・WS title
■John Ogilvie Profile
JOHN OGILVIE, founder and director of Byron Yoga Centre, (one of the oldest yoga schools in Australia) has been teaching yoga since 1987 and leads the Byron Yoga Centre teacher training courses, which are well known for their high quality. John Ogilvie is one of those rare people you meet with whom you feel an almost instant heart connection. There is a glint in his eyes that tells of an inner spring of joy, and a hint of boyish cheekiness. His presence is one of yogic lightness that makes you find yourself smiling when you are taking his class. His classes integrate the different yoga styles of Iyengar and Ashtanga, as well as the softer Sivananda and Satyananda practices of yoga and the energy principles of Aikido. His classes are both challenging and dynamic, and he has a joyful teaching style, laughing all the way through his classes. He hopes that by bringing joy to his students he will encourage them to make yoga a part of their daily life, and is always exploring ways to spread this infectious joy in his students.