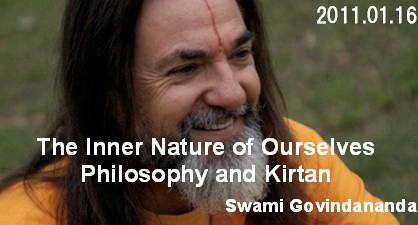 Everyone wants to be happy and no-one wants to be unhappy. Yet, in spite of happiness being so important to us,the Yogis and Saints say that our experience is an illusion, a pale shadow of what actual happiness is. Are they right? And if so, what can we do about it?

- Who am I, what do I want, and how will I achieve it?

- The nature of the self

- The purpose of the soul

- Where true happiness lies
- Integrating spiritual knowledge into our daily lives
Swami Ji is a highly experienced teacher who has spent many years in India studying philosophy and meditation at the deepest levels.
In this workshop benefit from his experience and empower yourself spiritually. Understand and use the timeless wisdom of the Yogis and Saints of India in your daily life.
Includes live Kirtan - chanting meditation with traditional asian instruments.
To raise money for charity in India – three hospitals and girls schools providing free service to poor.
*Detail*
Date: Sun, 16th Jan 2011, 17:00-19:00
Venue: Yoga Tribe
Address: 1-16-5−312 Kitazakae, Urayasu-shi(1 min from Tokyo Metro Tozai-Line Urayasu station)
Fare: JPY4,000 (Payment should be arranged in advance)
Max NO of People: 20(Advance booking only)
How to Apply: Please send e-mail to
book@yogatribe.jp
 - including your name, TEL, e-mail, "Philosophy and Kirtan WS"
*About Swami Govindananda*
Swami Ji (Swami Govindananda) is the founder of Ji Living. He is widely known for his depth of knowledge, his gentle, humorous nature and his ability to inspire in others the quest for genuine spiritual living. Through his online talks, retreats, live presentations, written and recorded material, Swami Ji has touched the heart of many thousands of people.
Swami Ji embodies positive spirituality and through example shows how we can all live joyous lives while at the same time moving towards our fullest individual potential. He is a modern Holy man for today's times - a bright light for one and all.
Though a Westerner (he was born in New Zealand and lives in Australia), Swami Ji has spent many years in India learning personally from one of the country's historically accepted great Masters, Jagadguru Shri Kripaluji Maharaj. He was taught philosophy and meditation at the deepest levels and after years of intensive training with this great Master, was accepted into the Swami order.
With this blend of cultures, Swami Ji brings extraordinary clarity to the complex and timeless philosophies of India, making this knowledge easy to understand in a way that has rarely been seen in the West. The benefits can easily been seen in those who have come into contact with him.
To aid his work, Swami Ji established the Bhakti Meditation Centre in 1990, an organization recognized by the Australian Government as non-profit charity. As an extension of this he has introduced Ji Living to enable a broader spectrum of people to find joy, hope and inspiration in their lives.