"Community Class" will be started in March. It will be held only on a public holiday.
Community Class is offered at a discounted rate. The instructor who need more practice for teaching have the class.
If you think;
"I would like to practice on a holiday afternoon"
"I am too shy to take a regular class"
"A 90min regular yoga class is too long for me"
It is a good chance to take this community class.
Date:2010.3.22(Mon)11:30〜12:00
Class:Community Class in Japanese and English
Instructor:Kaori
Fee:1,000円
Reservation:Please check
here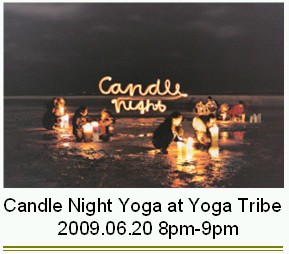 Yoga studio "Yoga Tribe" will be held "Candle Night Yoga" on the day before the summer solstice; Sat, June 20th.
Although the life with fluorescent light is convenience, we can feel slient and be in harmony with the environment under the candle light.
At the " Candle Night Yoga", we will be comfortable while healing yoga.
In addition, all participation fees will be donated to WWF for helping nature and earth.
Candle Night Yoga
Date: 20:00-21:00, Sat, 2009.06.20
Instructor: Yoshimi
Place: Yoga Tribe; 1-16-5-312 Kitasakae Urayasu, Chiba, Japan/ 1min from Urayasu Station
Fee: 1,000yen
Prescribed Enrollment: 15 people (by advance reservation only)
We will report the donation to WWF on
our website
.